Trip Log:
Started off the morning heading for the Contempo Café at 7:00am when it opened for Breakfast and then we were out to wait for a bus to the Animal Kingdom by 7:40. We arrived just after 8:00am and found a spot to wait for our Backstage Safari. After the tour we split up and two headed back to the Contemporary for a quick lunch then a fishing excursion and the other two of us ate lunch at Animal Kingdom then we hiked out to Asia and walked through the Jungle Trek then around the lake past Everest and into the Theater in the Wild to catch Nemo. After the show wandered through Dinoland and then around to Camp Minnie Mickey. Grabbed an ice cream cone and then strolled back to the park entrance and hopped on a bus back to the Contemporary. Met up with the fishermen and headed off to EPCOT via monorail. Once in the park went on Spaceship Earth then spent some time in Innoventions checking out the Storm Struck and Waste Management exhibits. After Innoventions we walked around Future World a bit then out to World Showcase. Caught some of the Off Kilter set then went to dinner at Le Cellier. After dinner made the loop of World Showcase before finding a spot to watch Illuminations.
Backstage Safari – Started off near guest relations where we signed in and met our guide for the morning. We received our headphones and then headed for the park. Entered through the turn styles and headed over toward the Rain Forest Café. After a brief introduction we headed backstage and hopped in a couple of vans and drove to the elephant/rhino barn area. There we were introduced to a rhino keeper and given the opportunity to pet a white rhino. After the encounter spent a little time near the elephants area then back in the vans and off the Conservation Station. We walked through the veterinary hospital then crossed the parking lot to the food preparation kitchen. We then headed for a quick snack and bathroom break then hung out in a classroom for a few minutes before heading back to the van and around to the parade gate. There we walked on stage and headed for a private Safari ride. After the ride we met up near Tusker house to wrap up the tour.

---
Thoughts & Observations:
I did not realize it but it has been over 8 years since I went on the Backstage Safari. The tour has evolved quite a bit over that time. First off they spend more time walking around and less time in the classroom. Secondly you now meet in the front of the park and travel through the backstage perimeter road to reach your destinations, vs walking from Conservation Station. In the tour section I have my thoughts and logs from the two tours if you are interested. The other change is now you get a plastic mug instead of a pin.


This is only our third day and we are already feeling quite full and most meals we are not ordering everything we are entitled to under the plan. With the platinum plan you get three table service (or quick service) meals per day plus two snacks. At the table service meals you get an appetizer, entree, and dessert.


We stopped by Innoventions to see the Storm Struck: The Tale of Two Homes exhibit which we missed last time around. There is a brief preshow then you enter a small theater and wear 3D glasses for a brief film showing the damage a hurricane can have. Then you are asked a series of questions and get to vote for choices to build a better home. Finally you are shown the film again but with your choices and are graded with how well you do. We got them all correct except for the plants... there was another new exhibit opening the end of May (I believe the opening date was 5/18) called the Great Piggy Bank Adventure.


We had dinner at Le Cellier and it was great as usual. I would probably put this meal a close third (close to Fulton's but I think Fulton's overall meal was slighter better due to the dessert). With Yachtsman being number one for me...


Walking around EPCOT there are several Kim Possible carts and there seemed to be a fair number of guests enjoying the game. Unfortunately I did not have time to play today, but will try on a later day.

---
Pedometer Information for the day:
| | |
| --- | --- |
| Steps | 17,462 |
| Miles | 8.26 |
| MPH | 2.49 |
| Steps/Min | 84 |
| Walking Time | 3:27:29 |
---
Enough with the text.. onto the pictures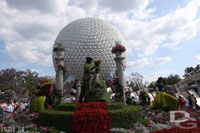 Click Here