Trip Log:
Started off the morning packing up to head home. Took the bags up and did the airline check in and then went back to double check the room and get our carryons. Checked the carryons in with Luggage services and we headed off to Animal Kingdom. Grabbed a Fastpass for the safari and took the train out to Conservation station and back then walked through the Pangani Forest. Went on our Safari and then hiked across the park to dinoland for lunch. Strolled by Everest and through Asia, turned for the front of the park and headed for the busses. Took a bus over to the TTC and then the ferry to the Magic Kingdom. Roamed down Main Street and around the castle while some ate funnel cakes. Spent some time taking pictures of Main Street, the Castle and shopping before heading to the busses and back to Coronado Springs. Picked up our bags and headed out to the bus stop to wait for our airport bus. Boarded and headed for MCO and then back to LAX and home.

---
Thoughts & Observations:
Used the airline checkin at the Resort, as we have done several times in the past and had no problems at all. We were a bit worried with all the new fees airlines charge. We were extremely pleased, and surprised, that United was not charging fees through the service for your first bag. Not sure how long this will last, but it was a pleasant surprise.


Next headed to the Animal Kingdom. The Animals were fairly active, maybe due to the cool weather?


Just thought I would point out that the Orlando Airport food court was substantially cheaper than Coronado Springs. I ended up with a combo meal from McDonalds for around $6 where as at the resort a burger and fries was $11 plus tax and service fee.


Speaking of the Orlando airport, the security lines were really quick this time. Not sure if they changed things or if we were just really lucky, but it only took a few minutes to get through the line.


Nothing of interest to report from the flight, we left a few minutes late and arrived into LAX about 15 minutes late. Speaking of LAX seems the traffic enforcement cops were in a ticket writing mood. We saw three people get tickets while waiting for our ride. They were not parked in the proper space, double parked, and taking too long.


One last note that really capped the trip off. As we were landing at LAX we managed to spot the Disneyland Fireworks. Saw almost the entire show, which was dumb luck and perfect timing. I could not get to my camera as it was in the overhead bin so no pictures though. Also interesting to note is how small the show looked from our angle. We landed on the furthest north runway so we were quite a ways from Anaheim and add in the altitude too.
---
Pedometer Information for the day:
| | |
| --- | --- |
| Steps | 9,664 |
| Miles | 4.42 |
| MPH | 2.40 |
| Steps/Min | 87 |
| Time | 1:50:34 |
---
Enough with the text.. onto the pictures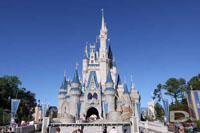 Click Here