This show premiered in 1992 and has been amazing audiences ever since.
Fantasmic is a show that takes place on the Rivers of America nightly during the summer and busy seasons, and most weekends the rest of the year (consult Disneyland's official website for scheduled times and days).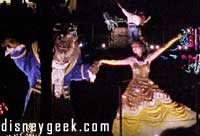 The show is a combination of a stage show, character revue, movie, fireworks display, laser light show, and concert rolled into one. I do not want to give too much of the show away, but be prepared to be amazed. The show takes place on Tom Sawyers Island (which is converted into a stage at dusk for the show) and on the Rivers of America (the Mark Twain and the Columbia are both used in the show). As dusk settles on the Magic Kingdom you will see people starting to "camp out" in New Orleans Sqaure for Fantasmic viewing locations. You will also see an army of technitions and cast members decend on the area to turn it into an awesome outdoor stage. Three giant light towers rise out of the ground around the river. Show elements rise out of the rocks and even the waters of America itself. The transformation itself is an entertaining thing to watch for disneygeeks.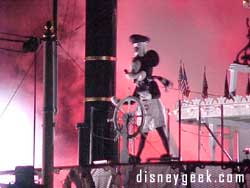 Like any good show there is a story to the show. The premise is that you are in Mickey's Imagination and you float through his dream sequences. These include several "happy dreams", then a battle between good and evil to control Mickey's mind. Of course Mickey overcomes the evil and there is a huge celebration to end the show. I know my simplified story is not the best, but remember I am a disneygeek (technogeek), not a story teller, so bare with me.
I went to the park to see Fantasmic only a few weeks after the show debuted (back before I had an AP). I showed up early and got a good spot (sitting on the grass, this was before they converted the area to mostly concrete). The area was jammed several hours before the show. I sat through the first show and was amazed. So I stayed for the second (as did quite a few others as I looked around). It was equally as amazing. So I stayed there for the third. Incredible was my reaction. Fantasmic still remains one of my favorites and I am amazed each and every time I see it.